Can you design a jersey for me from scratch?
Of course! Just give us some ideas of the kind of design you like, we will discuss some ideas with you and then produce design proofs for your approval with no obligation. To start the design process you can either purchase a single Fully Custom Design jersey or, if you prefer, pay a small $20 deposit to have the artwork created and pay the balance once you are ready to order.

How much will my custom jersey cost?
The cost for any semi-custom jerseys, those displayed on this site, have prices shown which include all design work and shipping. For fully customized jerseys, the cost depends on quantity. For one fully custom designed jersey, the price is $79.95 with free shipping in North America. For orders of 5 or more jerseys, we offer "club pricing" for which you should contact us for details.
Is shipping free?
YES! Prices listed include free shipping in North America. It's $14.95 for the rest of the World. We also now offer an EXPRESS Order service which reduces the target delivery date by one to two weeks depending on the area. You can read more about our EXPRESS Order service here.
What about taxes?
Our jerseys ship from our Canadian office. If you are ordering outside of North America then you will receive them as imports and MAY be subject to normal import taxes. This will usually amount to just a few dollars per jersey. If ordered within Canada your price is inclusive of taxes. For prices quoted for club orders (5+) we will quote pricing excluding taxes and Shipping.
What styles/shapes of jersey collars can I order?
We can provide "Pro" style (zip with short 2 inch collar), Polo (traditional folding collar and buttons), V-Neck T-shirt, or Round Neck T-Shirt.
What Font will be used for my name?
Below is the standard name font and format we use (Updated April 2016).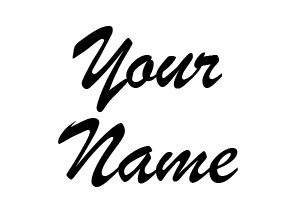 If you have a preferred font please contact us to order or write the font name (in brackets) along side your name in the order options.
We now also offer the option to add your own personal signature. When ordering, simply select the option to use your signature and upload a photo of your signature written ona white sheet of paper - we will do the rest!
How long will design & production take?
Design proofs are usually ready within 3 working days and once approved and payment is received, production takes between 3 and 5 weeks. We suggest allowing 6 weeks for production and shipping.
What fabrics do you offer?
Our standard fabric is a 100% polyester knitted fabric which is light and breathable, perfect for activity. We also offer a 100% polyester "bird eye" mesh fabric at no extra cost. This fabric is a little heavier. If you would like your jersey produced in the bird eye fabric please get in touch when ordering.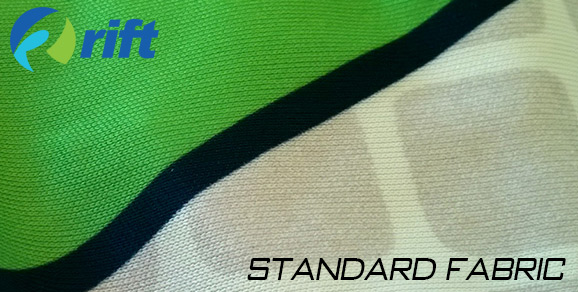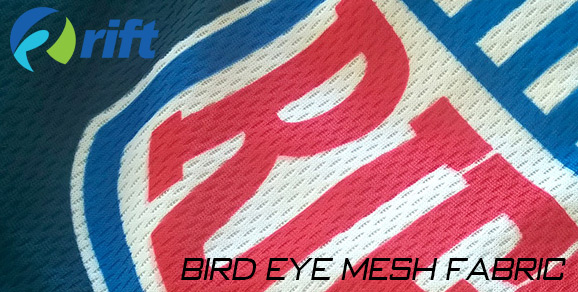 Is the fabric moisture wicking?
Yes - both fabrics we offer are 100% polyester moisture wicking fabric.
How do I know what size to order?
Please make sure to consult our size chart before ordering. Please allows a tolerance of 2cm in sizing.
What do I do if I think the jersey I received is the wrong size?
We make every jersey to order, so, on occasion, mistakes can happen. If you receive a jersey that has the wrong size on the label, we ask that you first check if it fits and measure the width to rule out mislabeling.
If the label is correct but you believe the size is incorrect, please feel free to get in touch with us to discuss. On doing so we will require a clear photograph of good resolution showing the full extents of the jersey laid flat and a measuring tape showing the jersey width, approx 1 inch/2.5cm below the arms. An example photograph will be provided to demonstrate what is required. You can see this here. Once this is provided and upon verification that width is outside our 2cm tolerance, a replacement jersey will be issued.
What logos can I use on my jerseys?
We have licensing and agreements in place with the following bowling, Darts and Fishing brands to use their logos on custom apparel:
Brunswick

($6.00 Additional Charge)

Columbia 300 ($5.00 Additional Charge)
DV8

($6.00 Additional Charge)

Ebonite ($5.00 Additional Charge)
Hammer ($5.00 Additional Charge)
Lane#1

($6.00 Additional Charge)

Master ($5.00 Additional Charge)
Radical

($6.00 Additional Charge)

Roto Grip ($10.00 Additional Charge)
Storm ($10.00 Additional Charge)
Track ($5.00 Additional Charge)
Visionary

($6.00 Additional Charge)

Seismic

VISE

($5.00 Additional Charge)

Kegel

Pyramid

Legends

Lanemasters

Creating the Difference

FLW

NODOR

Harrows
While we can on occasion use other brand logos, these must be reviewed on a case by case basis.
Can I use my own logo?
Of course! If you order a semi or fully custom desing, the cost of adding your own logo is included in the price. Just send it to us with your design ideas or upload when purchasing your jersey. If you would like to add your own logo to a stock design there is a small $10 charge which covers converting the logo to the correct format if necessary and encorperating it into the stock design. Please contact us about this service.
Do you provide any sponsorship?
On occasion, we will sponsor clubs or bowlers to wear our logo on their jerseys. If you would be interested in being considered, please send us an email at info@riftapparel.com
Do you have a "Staff" program?
At this time we are only offering staff positions to PWBA members.
How can I pay for my jerseys?
You can make payment for on-site purchaces using credit card or PayPal. Club orders can be paid for using credit card, PayPal or Bank Transfer.
What currency will I be charged in?
The default currency used by RiftApparel.com is US Dollars. In some regions such as Europe and the UK the local currency will be displayed using current approximate exchange rates. Charges to your Credit Card or PayPal account will be made in USD so if you are unsure please check the USD price before ordering.
Can I return a jersey if I do not like it?
If you have ordered a stock design (without customization or name addition)then you may return it within 14 days of receipt providing it is in the original packaging with label attached and is undamaged. If you have ordered a custom design (or customized a stock design) you can only return the item if it is damaged or mis-sized. Please see our Returns Policy for clarification.
What does my order status mean?
If your order status shows "Awaiting fulfillment", do not worry, this means that we have your order and it is in production. Once an order is placed this status will and will only be updated to "Awaiting Shipment" or "Shipped" once an order is complete and ready to ship to you / has been shipped.
Where are RIFT Apparel based?
We are based in Canada. Because we ship to a worldwide market, we list all pricing in USD. If you would like to order jerseys in your own currency, please get in touch.
What other sports can you make clothing for?
We can make custom designed sports jerseys and clothing for almost any sport from Bowling to Golf, Soccer to Basketball, Cycling to field hockey.
Can I see some examples of jerseys you have made?
Of course! We post regular photos submitted by customers on our Facebook Page and also have a page showing custom made bowling shirts.